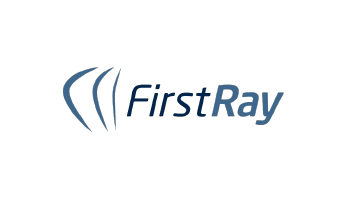 First Ray Receives FDA 510(k) Clearance for SpeedButton™ Soft Tissue Attachment System
LOGAN, Utah, June 2, 2016 /PRNewswire/ — First Ray, a start-up medical device company focused on advanced surgical devices for improving outcomes for orthopaedic extremity procedures, announces that it has received FDA 510(k) clearance for its innovative SpeedButton™ System for attachment of soft tissue to bone.
Reattachment of ligaments and capsular tissue to bone using conventional suture anchors is problematic in the presence of decortication at the attachment site. Quality of the fixation may be compromised, and the suture anchor can potentially occupy and occlude a portion of the soft tissue footprint available for healing.  The SpeedButton™ System solves these issues by using a transosseous fixation technique that achieves strong, reliable fixation in the cortical bone opposite the soft tissue reattachment site. Extremity procedures that commonly require decortication at the soft tissue attachment site include bunion and bunionette procedures, where an exostectomy is used to remove a painful bony prominence. In these procedures, the site of the exostectomy is the anatomic origin of stabilizing ligaments and joint capsular tissue, and is the preferred site for soft tissue reattachment.
"The SpeedButton™ System will be my preferred fixation technique for reattaching the medial collateral ligament and the metatarsosesamoid ligament of the first metatarsophalangeal joint in bunion procedures, as it facilitates direct ligament-to-bone repair of these structures," states Dr. Charles L. Saltzman, Professor and Chairman of the Department of Orthopaedics at the University of Utah. "Additionally, I see exciting potential for earlier surgical intervention with a less invasive procedure to treat the first stage of bunion development. Such a procedure may delay or possibly even preclude the further development of bunion and hallux valgus deformities that require a much more invasive, bone realignment requiring lengthy recovery times for patients."
The SpeedButton™ System will be offered in a sterile procedure pack that contains everything needed for the soft tissue reattachment procedure.
First Ray is a development stage medical device company incubated and operated by Surgical Frontiers.  Inquiries regarding distribution and commercialization partnerships are welcome.
About Surgical Frontiers
Surgical Frontiers funds, launches and operates start-up companies to develop advanced surgical technologies that are ready for clinical use.   Focused primarily on musculoskeletal injuries and pathologies, the company collaborates with surgeons, industry, universities, and investors to bring advanced surgical technologies to the market that improve healthcare.