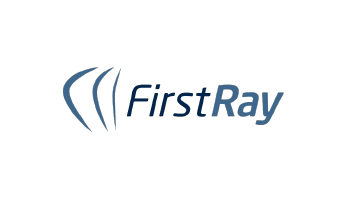 First Ray Receives FDA 510(k) Clearance for CortiClamp™ Small Bone Fixation System
LOGAN, Utah, May 16, 2016 /PRNewswire/ — First Ray, a start-up medical device company focused on advanced surgical devices for improving outcomes for orthopaedic extremity procedures, announces that it has received FDA 510(k) clearance for its innovative CortiClamp™ System for small bone fixation.
The CortiClamp™ System, a two-part bone screw system for small bone fixation, represents a significant advancement in fracture fixation, osteotomy and arthrodesis procedures that are currently treated using conventional bone screws, such as cortical screws, lag screws and headless compression screws.  The CortiClamp™System is the first bone screw system to include a second "screw head" that is attached to the distal end of the screw, providing screw heads on both ends of the screw shaft that create superior  bi-cortical clamping force.  The CortiClamp™ System also includes an innovative "all-in-one" instrument that serves as a reduction clamp, drill guide, countersink guide, depth gage and implant delivery guide.  This instrument eliminates several surgical procedure steps, including placement of provisional fixation, which streamlines the procedure and reduces operative time.
The superior bi-cortical clamping force of the CortiClamp™ System has been proven in biomechanical testing.   The CortiClamp™ screw construct offers statistically significantly higher pull-out strength, providing approximately twice the strength in an osteoporotic bone model when compared to headless compression screws and cortical screws (data on file).
"The CortiClamp™ System will be my preferred fixation system for several of my foot and ankle procedures, including oblique osteotomies for bunion and bunionette procedures," states Dr. Michael Coughlin, Clinical Professor of Orthopedic Surgery,University of California, San Francisco and Director of the Coughlin Foot and Ankle Clinic at Saint Alphonsus Hospital.  "Distal fixation of conventional bone screws is not always reliable in these procedures.  The CortiClamp™ System provides more confidence in the quality of my bone fixation, especially in cases where the bone is more osteopenic or osteoporotic."
First Ray is a development stage medical device company incubated and operated by Surgical Frontiers.  Inquiries regarding distribution and commercialization partnerships are welcome.
About Surgical Frontiers
Surgical Frontiers funds, launches and operates start-up companies to develop advanced surgical technologies that are ready for clinical use.   Focused primarily on musculoskeletal injuries and pathologies, the company collaborates with surgeons, industry, universities, and investors to bring advanced surgical technologies to the market that improve healthcare.