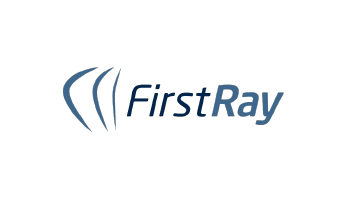 First Ray Receives FDA 510(k) Clearance for Stealth Staple™
LOGAN, Utah, May 3, 2016 /PRNewswire/ — First Ray, a start-up medical device company focused on advanced surgical devices for improving outcomes for orthopaedic extremity procedures, announces that it has received FDA 510(k) clearance for its innovative Stealth Staple™ System.
The Stealth Staple™ System, an intraosseous small bone fixation system, represents a significant advancement for the treatment of arthrodesis, osteotomies and bone fractures. Current standard-of-care devices used to treat these indications are primarily bone plates and bone screws, or bone staples. Due to the prominence above the bone surface associated with these standard-of-care devices, there are notable clinical rates of device related pain, soft tissue irritation, and second surgeries for hardware removal. Since the Stealth Staple™ is completely contained within the bone upon implantation, clinical complications related to prominent hardware may be substantially reduced.
Another significant advancement provided by the Stealth Staple™ is the creation of controlled and evenly distributed compression across the opposing bone surfaces of an osteotomy or fracture.  Finite element analysis and biomechanical testing have demonstrated superior strength, superior bone compression and superior resistance to gap formation compared to bone plate and screw systems (data on file).
"I look forward to bringing this treatment option to my patients, especially for bunion surgery, mid-foot and rear-foot fusions," states Dr. Chris Coetzee, Orthopaedic Surgeon at the Minnesota Orthopedic Sports Medicine Institute. "In addition to the potential for reduced clinical complications, I find the surgical technique is faster and more reproducible than bone screw and plate systems."
First Ray is a development stage medical device company incubated and operated by Surgical Frontiers. Inquiries regarding distribution and commercialization partnerships are welcome.
About Surgical Frontiers
Surgical Frontiers funds, launches and operates start-up companies to develop advanced surgical technologies that are ready for clinical use. Focused primarily on musculoskeletal injuries and pathologies, the company collaborates with surgeons, industry, universities, and investors to bring advanced surgical technologies to the market that improve healthcare.